Post by Chouko Ishikawa on Jul 14, 2011 20:20:01 GMT -5
CHOUKO RINGO ISHIKAWA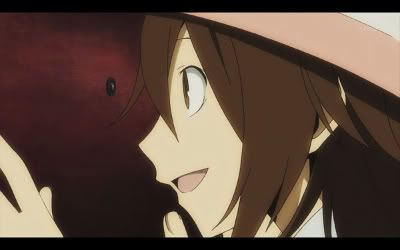 BASIC INFORMATION


Alias/Nickname:Cho-chan, Cho, Undicesimo
Age:14
Gender:Female
Sexuality:Homosexual
Occupation: mafia
Job: Tragedia famiglia Sky Boss
Flame:Sky
Play-By: Mika Harima

[/size]
ON THE OUTSIDE


Eye & Hair color:
Hair: Brown
Eyes: Brown
Height & Build:
Height: 5'1, she's petite no real signs of physical exercise though she isn't fat
Distinguishing features: Ears are peirced
Outfit of choice:
Chouko likes to wear a lot of pink, she has a pink beanie that she loves to wear and is rarely seen without it. Her clothes tended to be more girly than others, her entire outfit is pink. She wears a pink button up shirt, pink skirt, pink converse, pink tie with pins on it, and then even on colder days she wears a pink jacket.
Strengths:
-She's a leader
-Endless amount of energy
-Sky flames
-Leader of the Tragedia Family
Weaknesses:
-Family and friends if they were hurt she wouldn't know what to do
-She tends to be annoying cause of her bubbly personality
-Procrastinator she'd rather have fun than do work
Secrets:
- She's afraid of the dark
-She's homosexual (Secret to parents)
Personality:
Chouko has a tendency to act childish, she's only serious when she needs to be but most of the times she throws caution to the wind. She has an endless amount of energy that can rival the Vongola's sun guardian she rarely backs down from a challenge and can be seen as headstrong because of that. Chouko has often been compared to a bulldog, once she latches onto someone she rarely lets go. She cares a lot about her friends and guardians so she tries to develop a personal relationship with them, so maybe they won't see her as their boss but also their friend. Chouko has a fear of the dark that she has carried with her since she was a child; she isn't exactly sure how to get rid of it but refuses to show it to her friends sometimes.

Though she can act childish most of the time Chouko won't let anyone harm her friends. If there was something they needed or she had to defend her family for them she would without a second thought about it. Even if that means she has to go into all out war with someone she will, she cares about them that much, but her childish personality won't let her see how immature she herself is being.

[/size]
HISTORY



Parents and siblings:
-Rima Ishikawa: Mother, Alive, School Teacher
-Kiku Ishikawa: Father, Alive, Hitman
Spouse and children: none
History:
Chouko always knew her father was a hitman ever since she was a child he never thought of dragging his daughter into that world till the day she was chosen to be the eleventh. You see unlike the Vongola who goes by bloodline the Tragedia family goes by who is born with sky flames and then who the parents are of that child, so that way they know that the leader will be a good one. Though she was chosen to the Eleventh at a young age her childhood didn't change dramatically.

When she entered Middle school she was told to choose her guardians, Chouko found a set of people who by coincidence had different flames to be her guardians. Though when Chouko grew up she noticed something different about her, she found girls to both are cute. She didn't mean like oh you're so cute I want to take you home it was the I could date you type of cute she felt when she looked at certain girls. Though she kept this a secret from her parents, knowing that it was her mother's dream for Chouko to grow up and get married and have children. Chouko still wants that herself though just with a wife instead of a husband.


When she was asked to represent the family at this year's Mafia-con Chouko jumped at the chance and immediately brought her entire family with her as well. She became friends with some of guardians hosting Mafia-con this year, the all powerful Vongola family the people who's Chouko's family was second to in power. Though she was more than displeased when her family's rivals were invited as well and even more so when she found out their boss was friends with Tsunayoshi Sawada, her new friend as well.

[/size]
O.O.C.


Name/Alias:Chibi-chan
Experience: 6 years
Other characters:None
RP Sample:
Admin will let you know if they would like an rp sample from you

[/size]
Read more:
khrbeautyandatragedy.proboards.com/index.cgi?action=display&board=charactercreation&thread=7&page=1#ixzz1S8GR5pSm